Ulmer Farm Service, LLC


SOUTH DAKOTA'S QUALITY
OFF ROAD 4WD JAPANESE MINI TRUCKS
Available For Work and Fun!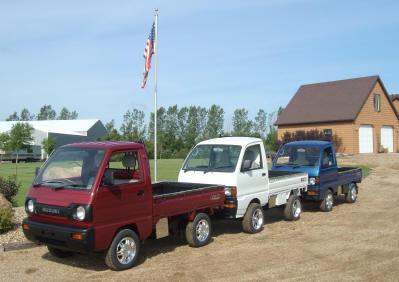 More versatile than an ATV four wheeler.
Average 40 MPG
More economical than a "Utility" vehicle.
With Safety, Comfort & Performance in mind.

4WD Suzuki Carry

4WD Suzuki Carry Dumper


Suzuki Carry with customized snow plow

THANKS FOR YOUR INTEREST IN OUR
OFF ROAD JAPANESE MINI TRUCKS
Imported from Japan, these quality used off-road 4WD mini-trucks can be used in the United States as farm utility vehicles, ranch trucks, and hunting vehicles. They can be used on golf courses, in parks, at campgrounds, resorts, schools, municipalities, for nursery/landscaping businesses and more. The uses for these tough little trucks are seemingly endless. You'll wonder how you ever got along without one!

Many Models to Choose From -
All the pictures on our website and in our Gallery page are Mini Trucks we have for sale and Mini Trucks we have previously sold. We personally inspect and service each truck when they come into our yard. When you visit us you will find our Off Road Japanese Mini Trucks are exceptionally clean and in excellent mechanical condition. Our aim is to provide you with the best quality Mini Vehicles and personal services we can offer.
| | |
| --- | --- |
| Suzuki Interior | 4WD Daihatsu Hijet with sides removed |
Mini-Truck Features
Weighs approximately 1400 Lbs.
1200 Lb. payload
4' 6" wide x 10' 6" long
Average Size
4' 6" wide
10' 10" long
5' 8" high
Automotive liquid cooled gasoline engine
3 cylinder 550CC or 660CC

Bed with fold down/removable sides
On demand 4WD
with high and low range
4 or 5 speed transmission
Hydraulic disc brakes
Full function cabs with 2 seats, wipers, horn, safety glass, all gauges, all lights, seat belts, heater, radio, door locks, some with A/C and more
Average 40 MPG
Custom painted to blend in with nature's surroundings.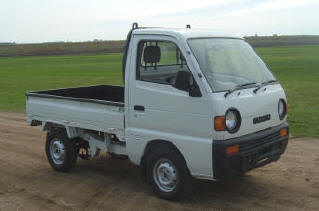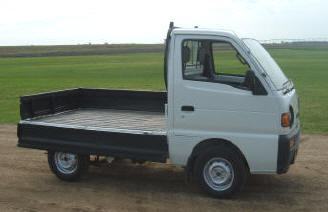 4WD Suzuki Carry with custom spray-in bedliner.
ULMER FARM SERVICE, LLC
John & Cheryl Ulmer
42963 Maxwell Road
Menno SD 57045


605 387-5660
(cell) 605 661-5050
(fax) 605 387-5190

Home - Trucks for Sale - Accessories - Photo Gallery - FAQ - Contact
© 2005 Ulmer Farm Service, LLC. All Rights Reserved.
Web Design by TJean Design.